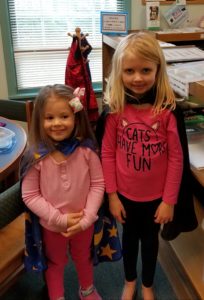 The Herbert Star Children's Room is part of the Darwin R. Barker Library and provides library services for  area children.  Please check the UPCOMING EVENTS section of the webpage for upcoming events and programming. 
Dress Up!  Be magic!  Be royal! Be super! Be strong! Be mysterious! Be whoever you want to be!
There's some new capes and hats in Children's Room and our patrons love them!
Dress-up items courtesy of the Friends of Darwin R. Barker Library.
For further information you may contact the library at (716)672-8051 or contact Carey Caserta @ barkerchildrensroom@gmail.com.